Campus Map
Campus buildings, such as a lecture and research building, a practical training building, a library, and the Oval Hall, are spaciously laid out on lush grounds. For learning the knowledge and skills of nursing, an optimum environment has been provided in order to deepen inquiring minds. (Designed by Kisho Kurokawa)
Click numbers on the map to see details.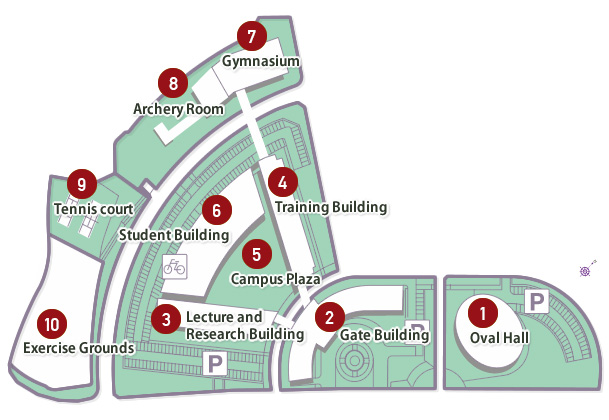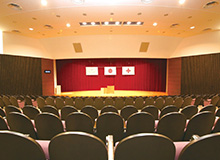 1

Oval Hall

This spacious hall has a seating capacity of 450 and used for the entrance ceremony, lectures, community classes, etc.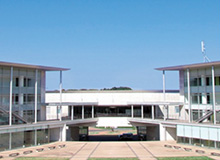 2

Gate Building

Designed to be a place for "socialization", the Gate Building has a library on the 1st and 2nd floors on its north side and a restaurant on the 1st floor on the south side, which are crowded with students between or after classes. The Interchange Plaza on the 2nd floor is open not only to students but to public.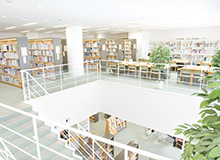 (on the north side) 1st and 2nd floor : Library
The library is provided to support the acquisition of professional knowledge and the latest information. We have 36,000 books, about half of which are related to medicine and nursing. Internet service is also available and we are working on improving its functionality.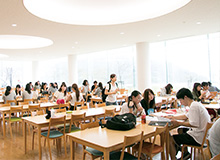 (on the south side) 1st floor : Restaurant
"Asty" is a popular restaurant among our students and has snacks as well as a variety of drinks, such as coffee and juices. The most popular item on the menu is the "Asty Lunch." The restaurant's bright lighting and open space are one of its main attractions.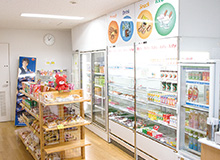 (on the south side) 1st floor : Asty Shop
This is a convenience store and has items frequently needed by students such as stationary, magazines, and snacks. The most popular item is "Asty" home-made cookie. A variety of flavors are available.
(on the south side) 2nd floor : The Social Plaza
This space is meant not only as a venue for communication between students, but is also open to members of the local community, and is used by many people.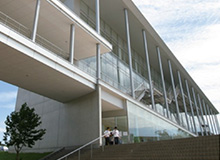 3

Lecture and Research Building

The Lectures and Research Building is the main location of student activity on campus. There are ten lecture rooms of varying size on the 1st and 2nd floors, each equipped with a monitor, and some are equipped with additional resources such as personal computers. On the 3rd and 4th floors there is one common research room, and 28 individual research rooms. Finally, on the 1st floor there is a student lounge, which can be used as a space for relaxation.
■1st Floor: Student Lounge, Lecture Rooms
■2nd Floor: Lecture Rooms
■3rd &4th Floor: Faculty Research Rooms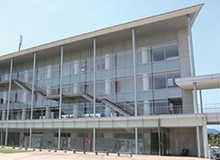 4

Training Building

In the nursing practice room, with a striking pink door, the same instrument as those used in the medical field are provided so students can develop practical skills. The computer room is for learning the basics of information processing required both in modern society as well as in nursing. There is also a simulation lab equipped with a computerized model of the human body. Students can acquire the nursing techniques required for medical emergencies, and so on.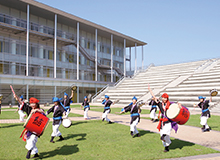 5

Campus Plaza

This plaza is designed for socialization and is inspired by the Coliseum of Rome.

Normally a place for students to rest and talk, during events a stage is provided for concerts and open space is used for vendor stalls.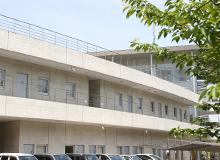 6

Student Building

Club rooms for our students' culture and sports clubs are located here. As a base for group activities, vibrant voices can be heard here every day. The building has also been equipped with a locker room.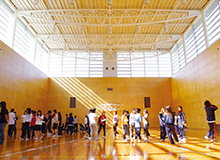 7

Gymnasium

Facilities are maintained for various sports.

The gymnasium can be set up as 1 basketball court, 2 volleyball courts, or 3 badminton courts. In addition to being used for the university's physical education classes, it is also open on holidays to the local public for a fee.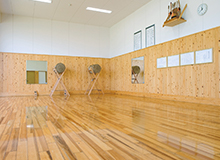 8

Archery Room

An appropriately quiet environment has been kept in this room allowing mental focus for competition and practice.

Because there is a fully automatic shutter separating indoors and outdoors, raising and lowering it is easy.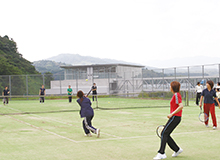 9

Tennis Courts

There are two tennis courts surrounded by greenery. Because they are laid from real grass and are well-drained, they are easy to use. In additional to being used for physical education classes, they are also used for group activities.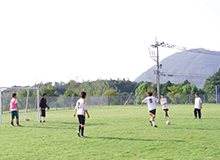 10

Exercise Grounds

During physical education classes, students have made extensive use of the grounds for enjoyment of sports and exercise.