Overview of International Activities
International Symposium
Annually we hold an "International Symposium" with guests convening from locations both domestic and abroad. The variety of people participating in the symposium include Red Cross, ODA, and NGO officials , nursing experts with experience in developing countries, and international students. Our students actively participate in its planning and operation.
Elective "International Health Care & Nursing II" Oversea Training Program
In the "International Health Care & Nursing II" program during the students' third year, we have oversea training as part of the curriculum. So far we have visited Myanmar, Thailand, Philippines, Indonesia, Cambodia, and India. At each location we visit its local Red Cross facilities, which is a great opportunity to deepen our understanding of that country's health issues and the efforts of the Red Cross.
Throughout the training students not only improve their comprehension of Health Care and Nursing, but also given the opportunity of experiencing different cultures students are expected to enhance their creativity, analytical skills, and communicationskills as those are essential abilities of nursing.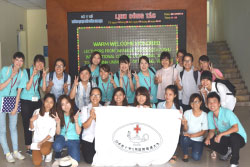 Short-term Study Abroad/Training Program
The objectives of this program are to enhance cross-cultural interaction and language skills.In addition, students will focus on the local health care situation, as well as observe the culture, social systems, social circumstances, and individual lifestyles. The goal is to acquire the ability to observe the lives of individuals, to consider their inter-relationship, and to understand the mission of nursing.

Luncheon Meeting
During lunch hours, Development and Humanitarian Aid officials who are visiting our campus from both domestic and foreign locations, will conduct casual talks about their experiences. Various speakers such as JICA staff who are in charge of operations in Afghanistan, Myanmar, and Morocco, a Kenyan doctor who works for African refugees, researchers of Ebola in the Democratic Republic of the Congo, and an Iraqi Kurdish autonomous government administrative officer have conducted lectures. You can listen directly to the stories of the current state of the world and the need for international cooperation to broaden your worldview.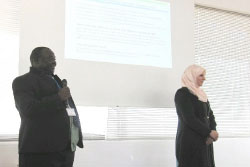 H.E.L.P. in JAPAN
H.E.L.P is international humanitarian aid training organized by the International Committee of the Red Cross to enhance the ability of humanitarian aid in conflicts and natural disasters. Every year, 10 to 12 courses are offered throughout the world. We are the only college in Asia to hold this course every other year." The completion certificate awarded after the training is highly valued by the Red Cross and international organizations. Our faculties and students attend the lectures as observers and are given opportunities to interact with first-class global experts.
H.E.L.P in JAPAN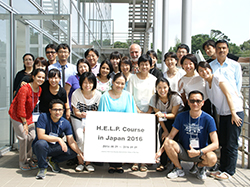 JICA Training
Our college is collaborating with the project implementing agency of JICA, ODA of Japan.Every year we welcome health care specialists from developing countries such as Afghanistan, Iraq, Laos, Morocco, Palestine, and Paraguay. Nurses, midwives, public health nurses, and administrative officers learn Japanese nursing and healthcare on our campus, and take tours at Japanese Red Cross and other regional facilities. Training members are sometime brought in as lectures to offer seminars for our students.