The Basic Idea and Structure of the Curriculum
Courses and Major Fields (plan to be revised in 2013)
Our graduate school with the Red Cross's principles takes a new step forward!
In our new curriculum, we offer 5 major fields in 2 courses, Health Science and Nursing. Our goal is to foster experts of nursing and health care with a high degree of specialization.
2 courses for obtaining a master's degree
In the Health Science course (Master of Health Sciences), we offer the fields of "World Health Crisis" and "Health Promotion", and we foster personnel who are capable of accommodating professionally and practically social requests such as the wide area of complex disasters and health crises that occur domestically and overseas, and health promotion in daily life.
In the Nursing course (Master of Nursing), we offer major fields of "life-span development nursing", "regional nursing", and "fundamental nursing", and we aim to respond to diverse needs. These fields cover the practical skill of nursing, knowledge and technological improvements in clinical nursing, and management theory in clinical nursing.
In addition, we enhance our nursing education by offering programs for midwife training (to obtain eligibility requirements for the national obstetrics exam) and for those with a midwifery license aimed at improving their midwifery practical skills, along with the "life-span development nursing" fields.
Course Terms
・Standard Program 2 years
・Long-term Study Program 3 years
For those for whom it would be difficult to finish the course in the standard program term (2 years) due to an obligation such as work, there is a system of a long-term study program to take the course in a planned manner over a longer period of time (3 years).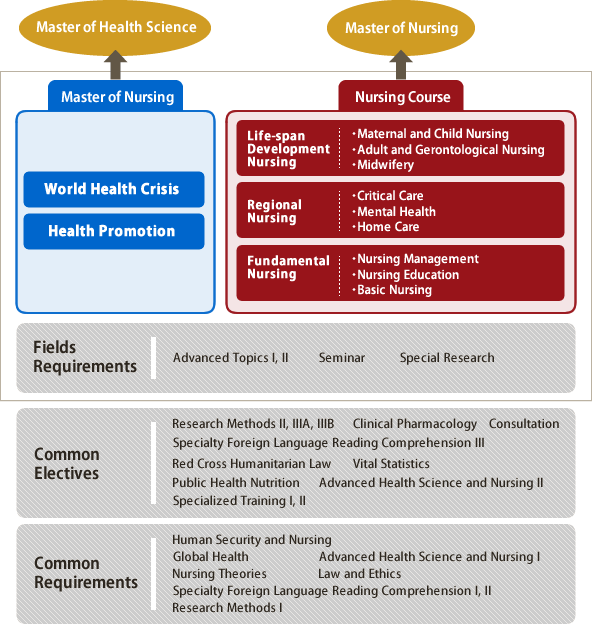 Health Science Course
World Health Crisis
In addition to infectious diseases, various disasters, major accidents and poverty, factors that threaten human health and safety are diversifying. In this field, from a global point of view, we analyze the factors that interfere with health. Furthermore, we improve the ability to conduct proper and effective actions in a time of the crisis, and to provide leadership.
Health Promotion
Global aging is increasingly in need of health promotion, which involves the maintenance and improvement of health in addition to the treatment of disease. In this field, we aim to develop human resources that can propose public policy for health matters and in addition, offer implementation plans and guidance towards health support for individuals with consideration of the lifestyle of the local community.
Nursing Course
Life-span Development Nursing
・Maternal and Child Nursing
・Adult and Gerontological Nursing
・Midwifery *
Diversification of lifestyles, including globalization, is causing new challenges in people's lives. In this field, we aim to develop human resources that can study characteristic health problems by stages of development; childhood, adolescence, adulthood, old age, and midwifery (maternal) related to reproduction cycle of the next generation. In addition, we teach students to be able to study at an expert level problems of local and global health beyond these stages. In the Midwifery program, students can obtain the eligibility requirements of the national obstetrics exam after getting credits from the required subjects.
Regional Nursing
・Critical Care
・Mental Health
・Home Care
We aim to develop human resources that can study a variety of health issues that anyone may encounter regardless of stage of human development, from critical care to mental health care and home care aspects. In addition, we foster them to be able to be involved professionally and globally in future challenges.
Fundamental Nursing
・Nursing Management
・Nursing Education
・Basic Nursing
Despite remarkable progress in medical technology, the essence of nursing, which is to see the person, is unchanged. However in the globalized world, things and information change rapidly and we have sudden changes in lifestyle as well. With a view to social changes like this, while taking up a variety of subjects in the field of nursing we study multilaterally and professionally the organization management required in a safe, effective, and efficient nursing practice, the role of human resource development and methodology, and nursing systems and policies.
*Educational programs for midwife training (for obtaining eligibility requirements of the national obstetrics exam) and improving midwifery practical skill are offered in the "life-span development nursing" fields.
Curriculum Policies
The Graduate school of nursing at the Japanese Red Cross Kyushu International College of Nursing set up two special courses of health sciences and nursing in order to achieve the educational philosophy and the educational objectives set forth, and aims to train practitioners of advanced health sciences and nursing, educators, and researchers. Furthermore, we are providing the classes required to meet eligibility requirements of the national obstetrics exam in order to train midwives who can solve complex and diverse problems in the obstetric field.
In accordance with the fundamental humanitarian principles of the Red Cross, in order to study a variety of interdisciplinary health needs, we provide common requirements and common electives as students' academic foundation in both health science and nursing.
In the common requirements, we provide fundamental subjects for studying global health issues, basics to execute research autonomously, and classes for acquiring knowledge and methods to accommodate various problems in health care.
Common electives are established with courses to reflect the continuation of undergraduate education and development and deepening of each major field. Students can emphasize their specialty in health science, nursing, or midwifery while reviewing the basics of research.
Specialized subjects are set up to teach the knowledge and skills that will be required when students engage in education and research in their respective areas of expertise in the future. In addition, seminars and special research are part of health science and nursing courses, as well as seminars and task-oriented study for prospective applicants to the national obstetrics exam. Students acquire research methods in these subjects, and based on it, their master's thesis will be assigned as an academic requirements.
In order to support our graduate student's autonomous and interdisciplinary learning, we prepare a comprehensive study guidance system by faculty of the liberal arts and health medicine areas beyond the existing specialized area of nursing.
Diploma Policies
We award a master's degree to those who have enrolled for more than two years in our master's course, have acquired more than 30 credits on given subjects set for each major field, and have received the necessary research guidance, submitted their Master's thesis, and have passed its review and final examination.
Awarded Degrees
The "Masters in Health Sciences" degree is awarded by completion of either the field of "World Health Crisis" or the field of "Health Promotion" in the Health Sciences Course.
The "Masters in Nursing" degree is awarded by completion of one of the fields "Life-span Development Nursing", "Regional Nursing", or "Fundamental Nursing" in the Nursing Course.
For those who wish to obtain eligibility requirements for the national obstetrics exam in "Life-span Development Nursing"
Those who wish to obtain eligibility, in addition to the subjects that have been set for each major field, need to acquire 28 credits that are specific to eligibility (for a total of over 58 credits). In addition, "special research" and "task-oriented research" work is assigned.
Assessment Policies
Our graduate school conducts evaluations from the following point of view and works systematically towards improving the quality of education and research.
Accreditation status of graduate students and research activities

Class Evaluation


In addition to the standard class evaluation for each subject, at the end of each semester a "class evaluation by graduate students" is implemented which summarizes all subjects. Based on these results, we strive to improve college-wide teaching.

Curriculum Evaluation


We evaluate and revise our curriculum periodically.