Basic Concept and Structure of the Curriculum
Basic Concept of the Curriculum
This curriculum is designed to encourage scientific and logical thinking in students, and to support them for proactive and independent learning. And through enhancement with liberal arts courses, we aim to cultivate human power as the foundation of nursing expertise.
In addition, changes in modern society (particularly rapid aging, reform of the health care system, declining birthrate, and a view to future trends), we have enhanced the courses involved in health and welfare so that we can predict the role of health and welfare expected of nursing professionals after graduation.
Structure of the Curriculum
Our college has set key concepts underlying the curriculum: "Human", "Environement", "Health", "Global Society", and "Nursing". Based on these five key concepts, students will learn the following.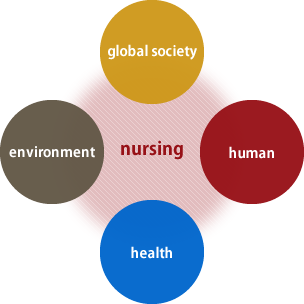 Nursing
Based on a deep understanding of the dignity of human life, the purpose of nursing is to aim for the health of individuals and groups, and to learn to support and respect their individuality.
Global Society
With humanitarian principles of the Red Cross, learn the foundation for carrying out nursing activities regardless of nationality or culture.
Human
Considering the dignity of human nature and life, learn that each individual is an irreplaceable presence living their own life.
Health
Learn concepts and theories related to health.
Environment
Learn concepts and theories on the interaction between the environment and humans.