Admission Overview
Admission requirements
1) Japanese language requirements: Level 1 of Japanese Language Proficiency Test (JLPT) or equivalent level.
Passing the entrance examination
2) A person who can pass the entrance examination designed in Japanese ( including an interview by faculty members in Japanese)
3) All lectures, educational consultation and clinical practice are given to all the students including overseas ones only in Japanese.
4) Although we have been making efforts to open the door for overseas students, we have no special course for them yet. Therefor a person from abroad who comes to Japan to enter either the undergraduate or the graduate course must fulfill the following requirements as a Japanese applicant:
Application Documents
1) Application Form (designated form): Fill in the application form, attach a photo of the upper half of the body taken within the last three months.
2)Official Transcripts: An original copy of the transcript of all education programs /undergraduate courses with grades or evaluations received, sealed properly in an envelope, must be submitted. The transcripts should contain the name of the school master/the president of university/college where the applicant completed the education programs (minimum: in total 12 year education) /undergraduate program.
3)Official Certificate of Graduation: A senior high school/university/college issued graduation certificate or official letter indicating the date of graduation and title of degree must be submitted.
4)Application Fee: A non-refundable fee of 30,000 yen.
| | |
| --- | --- |
| The first year payment fee | (yen) |
| Adomission Fee | 300,000 |
| Course Fee | 800,000 |
| Maintenance and operation fee | 200,000 |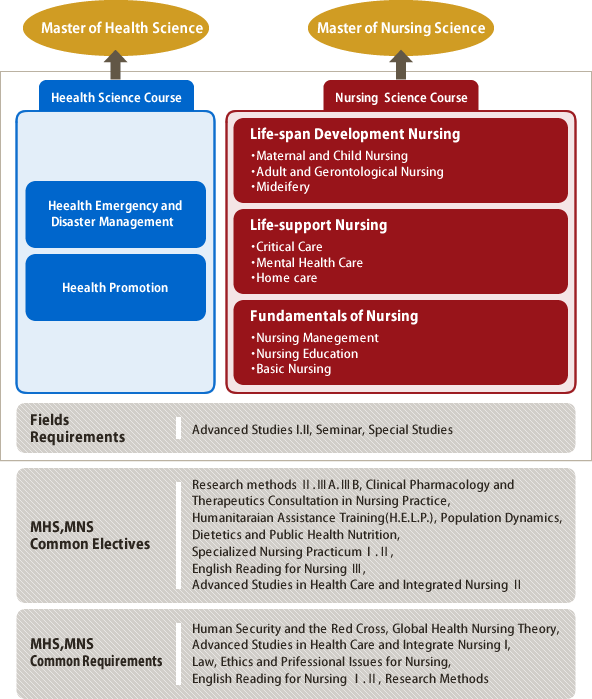 Admission Exam Schedule for Enrollment
Working Adult Admission Exam/General Admission Exam
First Semester Application Period
Late September
Second Semester Application Period
Late December
Exam Subjects
Working Adult Admission
English
Short Essay/Special Subject/Interview
General Admission
Special Subject (the major you wish to enroll in)/English (a dictionary will be provided by the college)/Short Essay/Special Subject/Interview
Certification of Admission by Individual Entrance Qualification Exam
We offer an individual entrance qualification exam for candidates who don't meet our application requirements, such as those not having a graduate diploma. A candidate who passes the qualification exam is then certified to take the admission exam for our graduate school.
For Inquiries About Admissions
The Japanese Red Cross Kyushu International College of Nursing
School Affairs Section, Registration Office
1-1 Asty Munakata-shi, Fukuoka 811-4157
TEL: 0940-35-7008 (direct)FAX: 0940-35-7021 Inquire by email